HiGOLE F7 rugged Windows 10 Pro tablet Introduction
HiGOLE F7 is a rugged Windows 10 Pro tablet with a 10.1″ touchscreen display, an Intel Atom x5-Z8350 Cherry Trail processor, and "three-proofs" with shockproof, waterproof, and dustproof . The tablet also comes with various functions that can be used to industrial control, construction fields, vehicle repair, warehouse, etc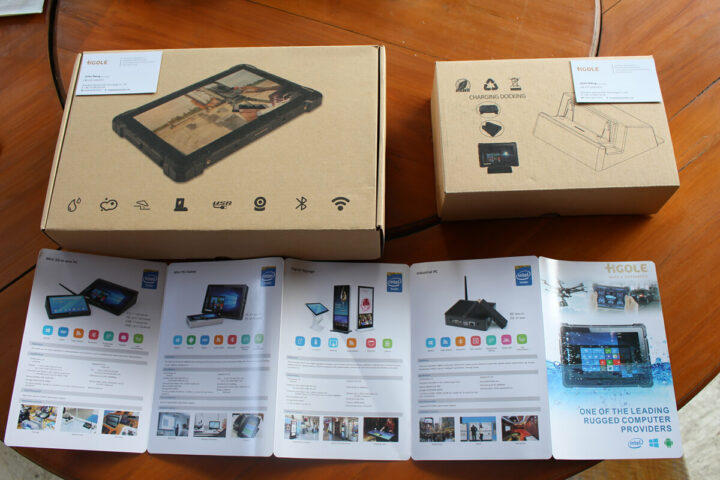 GPS, NFC, 4G, a QR and bar code scanner, and a fingerprint, hand strap, and the separate charging dock.The tablet comes with a rubber cover to protect all sides.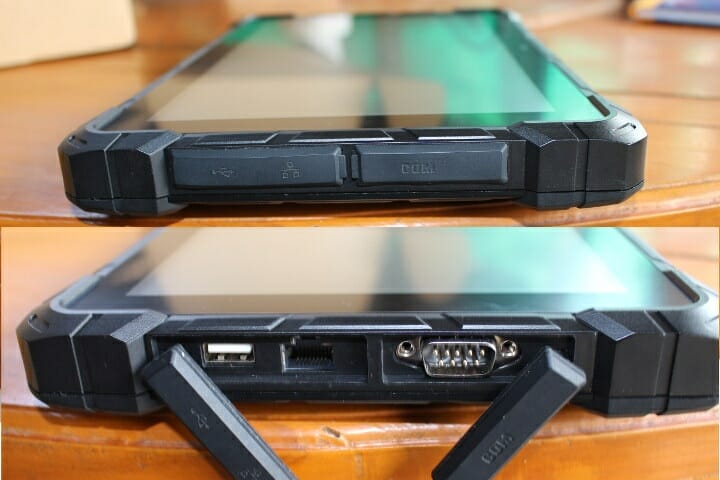 All ports are covered to make the tablet dustproof and waterproof, and you can easily pull those rubbers to reveal USB, Ethernet and a RS232 COM port on one side.… a 3.5mm audio jack, micro HDMI port, micro USB port, USB 3.0 port and power button on the other side.There are holes and pins to connect to the charging dock station at the bottom.… scanning on/off, power on/off, and volume up/down buttons, as well as QR/barcode scanner visible through a transparent window. Both top and bottom sides have M4 threads for mounting.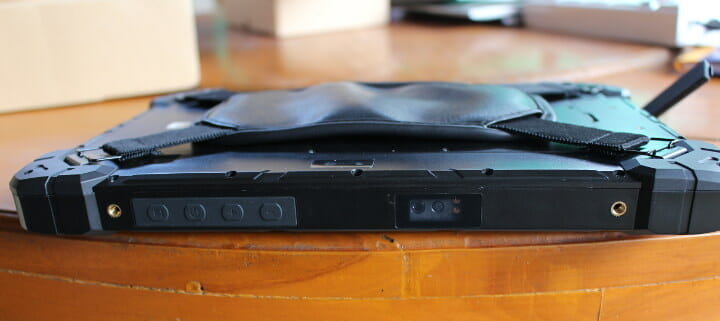 The tablet comes with a 5V/3A power supply and a user manual in English. If you look at the back of the tablet, you will see NFC support, two cameras, and the fingerprint sensor, and a hand strap that allows for safe single-hand operation.The hand strap really keeps the tablet firmly against your hand, and it will not fall off.
After taking out the hand strap, you can remove the back cover and it will reveal a 12,000 mAh/3.7V battery. The battery is removable and rechargeable and will give access to a MicroSD slot and SIM card slot which are not so convenient to access.
Let's switch to the other package which contains the charging dock and 5V/3A power adapter. The rear panel of DC "Charging Docking" just includes the power jack and one USB port. That's what the setup looks like when HiGOLE F7 is placed on its charging dock.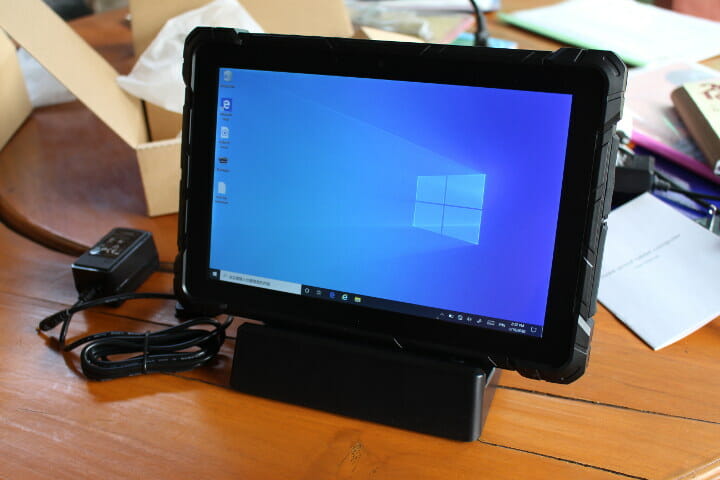 HiGOLE F7 System Info: Windows System information shows the Atom x5-Z8350 is coupled with 4GB RAM, and run the 64-bit version of Windows 10 Pro OS. After setting up the network, Windows 10 will activate itself. There's a 64GB eMMC flash drive as advertised.
Here's a screenshot of Device Manager for people interested in details. Note that since there are many optional modules, your HiGOLE F7 may show a slightly different list of peripherals. PCMark10 Benchmarks I've still run one benchmark to make sure there were no big issues with performance. 806 points in PCMark 10 compares to around 896 points in MINIX NEO Z83-4 Pro mini PC. Roughly ten percent lower, but it's difficult to compare since PCMark 10 (2017) shows a different break down of results . Anyway, that's no big issue, and the users of the tablet are likely to run a single application (e.g. point of sales system ) on the field. QR Code and Bar code scanner.
The tablet can be fitted with all modules include barcode/QR code scanner, fingerprint scanner, GPS module, NFC module, and 4G LTE modem, etc.
The barcode and QR code scanner is super easy to use. It will start automatically with the red LED blinking, but you can disable it with the F1 button on the top of the tablet. Simply open notepad or set the cursor in a filed in any application, scan the bar code or QR code and it will automatically be "typed" into the program.I was initially told my tablet was fitted with a fingerprint scanner which can be used for logging into Windows for instance. First press the Windows key and type "hello" and tap on the "Sign-in option" to bring the following window.Tab or click on Windows Hello Fingerprint, to continue the setup.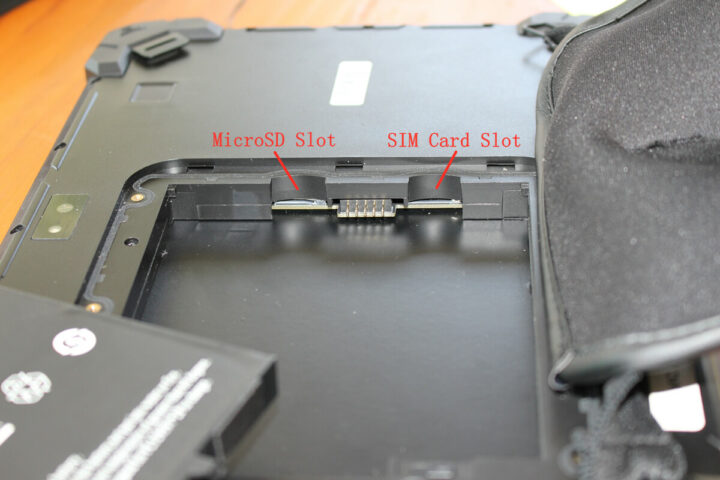 The NFC reader is located internally on the back of the tablet. It can't be seen from the outside, but there's a sticker showing the location. There will be a sound when the NFC card is detected. You'd need to have specific software compatible with the NFC card used.This was the fun part of the review. The tablet is shockresistant up to one meter on soft surfaces like wood, dust and waterproof with an IP67 rating.
So I dropped it on the floor, threw some soil at it, and clean it up. Note you have to make sure all rubber pads are properly closed. Better double-check if there's a risk the tablet drops into the water, as otherwise, water will infiltrate. I could still use the tablet after all the abuse I gave it. However, IP67 does not guarantee waterproofness against strong water jets.
Hope this short review gave you an insight into what's possible with HiGOLE F7 rugged tablet. Although Intel Atom X5-Z8350 processor makes it unsuitable for typical consumer use, but it's not target market, and but it may definitely be considered by professionals who need a rugged Windows 10 tablet with some levels of shock resistance, dustproof and waterproofness, and specific features like serial port, NFC, fingerprint scanner, barcode scanner, and so on.If you requires high end rugged tablet, Higole F7G with Intel Celeron N4120 CPU will be one the market soon. Please keep an eye on it.